How Big Is Tasmania, Australia? Full Explanation!
Have you looked at a map of Australia and found yourself wondering "How Big Is Tasmania?".
You're not alone! This is a common question – and lucky for you I have the exact answer! I live in Australia and have done quite a bit of travelling around Tasmania – so I know exactly how big Tasmania is!
Now, we all can look at the map and say that Tasmania is a small Island, in relation to the rest of Australia – but how small is small? In fact, if we compare it to other countries is Tasmania small at all? How long will it take you to get from one city to the next in Tasmania?
This blog post will aim to answer the question "How Big Is Tasmania?" but also put it into perspective when compared with other countries and states in Australia. I'll also let you know how long it would take to travel around Australia so that you can plan your perfect itinerary accordingly.
How Big Is Tasmania?
🌏 The land area of Tasmania is 68,401 square kilometres (26,410 square miles), making it larger than several countries and states around the world.
To really put this into perspective, Tasmania is larger than countries such as Belgium and Denmark, and U.S. states including West Virginia and Maryland. It is also slightly bigger than the US state of Florida, which spans an area of 65,758 square kilometres.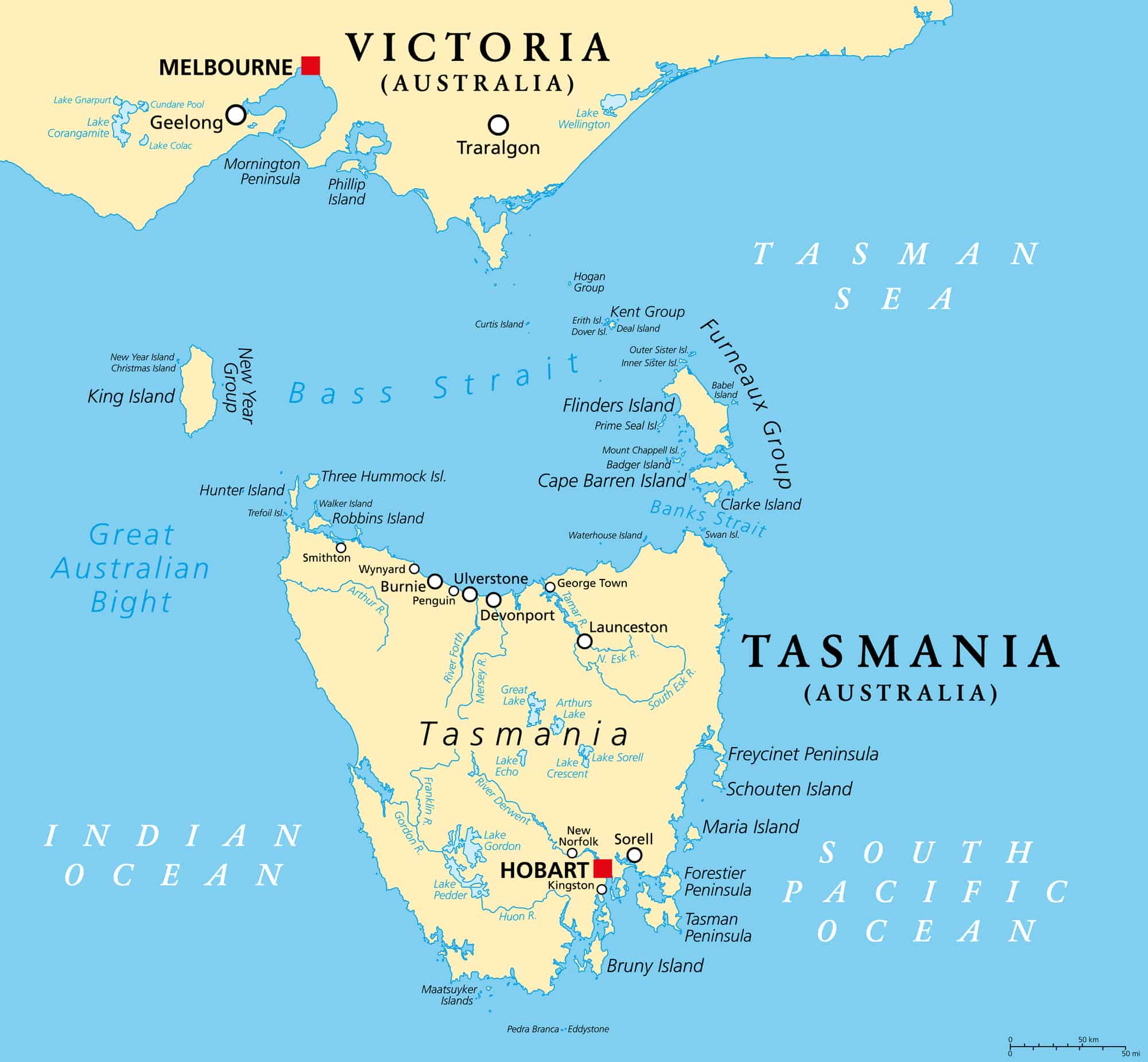 To really see how big Tasmania is compared to other countries around the world, see the table below:
| | | |
| --- | --- | --- |
| Location | Size in Square Kilometres | Size in Square Miles |
| Tasmania | 68,401 | 26,410 |
| Florida | 65,758 | 25,448 |
| Republic of Ireland | 70,273 | 27,133 |
| Sri Lanka | 65,610 | 25,332 |
| Lithuania | 65,300 | 25,212 |
How Big Is Tasmania Compared to the Rest of Australia?
Though Tasmania's size might seem substantial on the global stage, within Australia's borders, it's known as the smallest state. Victoria, its neighbouring state, boasts a landmass that's almost triple that of Tasmania.
But don't let Tasmania's ranking fool you – despite being the smallest, it occupies around 0.9% of Australia's total area. This might not sound like much at first, but considering Australia's immense size, it's a substantial chunk.
Is Tasmania the biggest Island in the World?
🌏 No, Tasmania is not the world's largest island – Greenland is the world's biggest Island.
Following close behind are New Guinea and Borneo, occupying the second and third positions respectively.
Tasmania, despite its generous proportions, places 26th on the global roster of the largest islands.
While it may not be the frontrunner in terms of sheer size, Tasmania still maintains a respectable and commendable presence in the international island lineup.
The Size of Tasmania in Comparison to European Countries
Despite being the smallest state within Australia, Tasmania's size becomes much more impressive when compared to some European countries.
In answering the question, "How big is Tasmania?", we find that its land area exceeds that of several European nations.
Belgium 🇧🇪
With an area of 30,689 square kilometres (11,849 square miles), Belgium is roughly half the size of Tasmania. This means Tasmania is nearly twice as large as Belgium.
Denmark 🇩🇰
Denmark, covering an area of 42,933 square kilometres (16,577 square miles), is significantly smaller than Tasmania, making Tasmania approximately 1.6 times larger than Denmark.
Netherlands 🇳🇱
The Netherlands measures 41,543 square kilometres (16,040 square miles), therefore Tasmania is roughly 1.65 times larger.
Switzerland 🇨🇭
Switzerland spans an area of 41,290 square kilometres (15,940 square miles), which again makes Tasmania approximately 1.65 times larger.
Luxembourg 🇱🇺
Tasmania dwarfs Luxembourg, which is just 2,586 square kilometres (998 square miles). Tasmania is around 26 times larger than Luxembourg.
Slovenia🇸🇮
Slovenia has an area of 20,273 square kilometres (7,827 square miles), making Tasmania over 3 times larger than Slovenia.
Wales 🏴󠁧󠁢󠁷󠁬󠁳󠁿
With an area of 20,779 square kilometres (8,023 square miles), Wales is significantly smaller than Tasmania. In fact, Tasmania is more than three times larger than Wales.
The Geographic Diversity of Tasmania
In terms of land usage, Tasmania presents a unique blend of conservation and agriculture amidst its urban developments.
About 42% of Tasmania's total land area, or approximately 28,728 square kilometres, is designated as reserves, national parks, and World Heritage Sites, reflecting the state's commitment to preserving its unique natural heritage.
A significant portion of the land, around 24% or 16,416 square kilometres, is devoted to agriculture. Tasmania's fertile soil and temperate climate make it ideal for a variety of crops, livestock, and viticulture, contributing significantly to the state's economy and way of life.
As for forests, they cover approximately 52% of Tasmania's land area, spread over roughly 35,568 square kilometres. These forests are not only vital for the environment but also support the state's timber industry.
The urban areas, while not as expansive, are strategically located across the island. The capital city, Hobart, along with Launceston, Burnie, and Devonport, houses the majority of Tasmania's population.
These urban regions, while constituting only around 1% of Tasmania's total area, play a vital role in the state's cultural, economic, and social spheres.
These figures demonstrate Tasmania's commitment to balancing environmental preservation with agricultural productivity and urban development.
Exploring the distances between Tasmania's Urban Cities
For a state of its size, Tasmania offers a deceptively rich variety of experiences within relatively short travel distances. The island's compact size means that one can journey from the windswept beaches of the coast to the rugged peaks of Cradle Mountain in just a few hours.
This makes Tasmania the perfect destination for road trips.
Let's delve into the specifics of journey times between some of Tasmania's key locations. Starting from Hobart, the state's capital:
Hobart > Launceston
One of the longer journeys, it takes approximately 2.5 hours to cover the 200 kilometres between these two cities via the Midlands Highway.
Hobart > Freycinet National Park:
A drive to this natural wonder takes around 2.5 hours as well, covering a distance of approximately 195 kilometres. The journey offers stunning views along Tasmania's east coast.
Hobart > Cradle Mountain
This journey takes approximately 4.5 hours, covering a distance of around 302 kilometres. The route traverses a diverse range of Tasmania's stunning landscapes.
Launceston > Cradle Mountain
A shorter trip of about 2 hours 15 minutes, over a distance of 150 kilometres. This route cuts through the heart of Tasmania, offering a fantastic cross-section of the island's scenery.
These travel times can vary depending on the route chosen and the time of year, but they offer a general idea of how big Tasmania is in terms of travel times and distances.
Despite being the 26th largest island in the world, Tasmania's compact size allows for easy exploration of its diverse landscapes and experiences
What is The Population of Tasmania?
👨‍👩‍👧‍👦 Tasmania, despite its substantial size, has a relatively small population. As of the latest census, the island is home to around 557,571 people.
How does the population density of Tasmania compare to other states in Australia?
| | |
| --- | --- |
| State/Territory | Population Density (people/sq km) |
| Australian Capital Territory (ACT) | 170.80 |
| New South Wales (NSW) | 9.70 |
| Northern Territory (NT) | 0.17 |
| Queensland (QLD) | 2.80 |
| South Australia (SA) | 1.60 |
| Tasmania (TAS) | 8.00 |
| Victoria (VIC) | 28.00 |
| Western Australia (WA) | 1.00 |
These numbers represent the number of people per square kilometre in each state or territory.
Population density can significantly influence the feel of a place – areas with high population density tend to have more urban development and infrastructure, while areas with lower densities are often more rural or wild.
How do population spreads affect travel experiences?
The majority of Tasmanians live in the urban areas of Hobart, Launceston, Burnie, and Devonport.
This concentration leaves vast tracts of the countryside and wilderness areas relatively untouched, creating a haven for wildlife and providing pristine natural landscapes for visitors.
It also means that travel across Tasmania can feel quite secluded and peaceful. You can drive for hours through breathtaking landscapes with only the occasional small town or farming community.
This sparse population density, combined with the state's geographical diversity, gives Tasmania a sense of being far larger than it actually is, making the question "How big is Tasmania?" about more than just physical size.
Unpacking Tasmania's Size through Major Attractions
Tasmania, while compact compared to mainland Australia, boasts a wealth of attractions that offer a sense of its size and diversity.
From the rugged peaks of Cradle Mountain in the northwest to the tranquil beaches of the Freycinet Peninsula on the east coast, the diversity of Tasmania's landscape is astounding.
In the south, the capital city Hobart, nestled between Mount Wellington and the River Derwent, offers a vibrant cultural scene and a rich history. Launceston, in the north, is known for its beautiful Cataract Gorge and the Tamar Valley wine region.
Venture to the west coast, and you'll find World Heritage-listed wilderness areas like the Franklin-Gordon Wild Rivers National Park and the quiet, historic town of Strahan. To the northeast, the Bay of Fires is renowned for its stunning orange-tinged granite coastline.
How many days would it take to travel around Tasmania?
📍 If you're putting Tasmania on your travel bucket list (and you definitely should!), consider setting aside a solid 14 days for your adventure.
Why 14 days, you ask? Well, despite its compact size, Tasmania is incredibly rich in experiences, and you'd want enough time to do justice to what it offers without making sacrifices.
Imagine starting your journey in Hobart, soaking up the city's culture and history. Then you could venture eastwards to Freycinet National Park, indulging in some of the most stunning coastal landscapes you'll ever lay eyes on.
Then visit the city of Launceston and the famed Tamar Valley wine region, followed by a journey into the wild at the iconic Cradle Mountain.
How Big is Tasmania: Frequently Asked Questions
Recap: How Big Is Tasmania?
Well, in terms of square kilometres, the land area of Tasmania is 68,401 square kilometres. It's not the biggest, but when it comes to the experiences packed into its borders, Tasmania is a giant.
The state's compact size doesn't limit the experiences; it enhances them, offering a unique opportunity to switch from wilderness to city life, from mountains to coast, in a matter of hours.
So, in the grand scheme of things, Tasmania isn't just big; it's massive – massive on experiences, massive on memories, and massive on the impact it leaves on its visitors. That's the true measure of Tasmania's size.
Before you go…
Now that you have an idea of how big Tasmania is, it's time to start planning your journey across it!
Our blog is packed with resources to help you get the most out of your Tasmanian adventure. If you're unsure of where to begin, start with our detailed 14-day Tasmania itinerary.
This comprehensive guide has been carefully crafted to ensure that you get to experience the full breadth of what Tasmania has to offer, from the rugged wilderness to serene beaches, and vibrant cultural scenes.
As you map out your Tasmanian exploration, don't forget to consider where to rest your head at the end of the day. And trust me, there's no place quite like Cradle Mountain. Not only is it a highlight of Tasmania's wilderness, but the accommodation options here provide the perfect blend of comfort and connection to nature!