The Best Animal Parks and Zoos in Sydney
Looking For The Best Zoos in Sydney?
In most cities around the world, there is one zoo to visit, making your choice incredibly easy. But in Sydney, there are three zoos (plus several additional wildlife parks and aquariums), which makes the decision a whole lot harder.
I live in Sydney and I have been to all the Zoos and wildlife parks here! – so I'm a bit of an expert when it comes to which Zoos you should visit and the ones I wouldn't bother wasting my money on!
In this guide, we'll dive deep into Sydney's array of wildlife parks and zoos, highlighting the animals you'll meet and the special experiences on offer.
With this side-by-side comparison, you'll easily find the animal experience that aligns perfectly with your family's interests and budget.
Zoos in Sydney: A Quick Guide
🦁 Taronga Zoo is ideal for a full-day zoo adventure, especially for those keen on soaking up views of Sydney Harbour, exploring a wide array of animals, and don't mind the uphill and downhill strolls to see them all.
With a spectacular view overlooking the iconic Sydney Harbour, Taronga Zoo effortlessly claims the title of the zoo with the most stunning backdrop. If you're debating whether to visit Sydney, Taronga Zoo will definitely make you want to go!
If you plan your day well, and I highly recommend that you do due to the sheer size of Taronga Zoo, you should start at the top, so you can spend the day walking downwards enjoying the views all day.
Taronga showcases a rich array of native Australian fauna along with a diverse collection of exotic animals—the most extensive of all the zoos in Sydney, so it's really an all-day wildlife expedition.
However, if a full day seems a stretch, have a look at the Zoo Map beforehand to get the most out of your visit.
You can expect to see giraffes, chimpanzees, Asian elephants, and of course Australian favourites such as koalas and dingos.
The zoo is great for kids, with a dedicated backyard to bush trail leading to the Farmyard Nursery, where little hands can touch the lambs, rabbits, and pigs.
Special Experiences at Taronga Zoo
Zookeeper Experience
Designed around three specific age groups from 8 years old to adults, the Zookeeper Experience at Taronga Zoo offers a unique behind-the-scenes glimpse into the animal kingdom. Duties will include devising stimulating activities for the animals and assisting in food preparation, making it an enlightening and hands-on adventure.
The adult experience is limited to 6 people, making it a special experience.
Animal Encounters
Indulge in intimate encounters with a diverse range of animals at Taronga Zoo. Experience can be booked with the following animals:
Capybara
Giraffe
Elephant
Koala
Meerkat
Penguin Encounter – The newest experience, allowing you to hand feed them fish!
Wild Ropes
Step into a sky-high playground at Wild Ropes Tree Top Adventure, where both kids and adults can swing through a delightful high rope course.
The Free-flight Bird Show
Included in your entry to the zoo is The Free-flight Bird Show, available daily at 12:00pm and 3:00pm with no booking required.
Witness the majestic Andean Condor spread its three-metre wide wings, alongside other exotic birds like the Red-tailed Black-Cockatoo and Galah, all soaring against the stunning backdrop of the Sydney Harbour skyline.
Seals for the Wild Show
Also included in your entry fee is the Seals for the Wild Show, a display where seals showcase their natural prowess in catching fish, climbing, and diving.
Witness species like the Australian sea lion, Californian sea lion, and Long-nosed fur seal in action, all while gaining insights into their marine habitat.
Extend your marine adventure with the Seals for the Wild Talk, an educational segment where you meet some of Taronga's cared-for seals.
Stay the Night
For a sprinkle of extra magic, why not cosy up at Taronga Zoo under the starlit sky? You have two options: a charming glamping escapade or a plush hotel-style retreat.
Opt for the glamping and you'll find it's anything but roughing it, or treat yourself to the plush comforts of the brand-new Wildlife Retreat. Here, 62 peaceful rooms await, each with a view that either peeks into the harbour, gazes at the animals, or overlooks the calming bushland.
❗️The cable car experience is closed until 2025.
Adult tickets are priced at $45.90, while child tickets are $35.10, with complimentary entry for children under 4.
Planning on visiting for your birthday? Entry is just $1! Just make sure you your bring ID along for proof!
📍Get cheaper prices by booking online! Click here to book now!
Hop aboard the Harbour Ferry featuring the rocket ferry service, which lets you hop on and hop off, blending a day at the zoo with multiple other harbour stops.
Choose from one or two-day passes.
🏆 I highly recommend booking the Zoo and the Ferry Ticket! It offers great value for money, and the ferry ride around Sydney Harbour is so worth it!
Accessibility
Wheelchair hire is available.
Assistance dogs welcome with a 72-hour prior arrangement via email
Over 95% of animal displays are wheelchair-viewable.
All amenities including food outlets, shops, shows, and presentations are wheelchair accessible; post-2001 developments have elevators.
Autism services are provided through special Access Taronga days, featuring early opening at 8:30am, exclusive animal shows, early zoo access, and a social story to guide children on what to expect.
How to Get There:
Final Thoughts on Taronga Zoo
Key Information
When: Winter – 9.30am to 4.30pm (May to August) Summer – 9:30am to 5:00pm (September to April)
Where: Bradleys Head Rd, Mosman NSW 2088
Parking: Flat rate of $22 for the whole day
Sydney Zoo is a relatively new wildlife attraction, founded in 2015, it sprawls across 16 hectares of the Western Sydney Parklands in Bungarribee.
🦁 Sydney Zoo shines for its accessibility, catering to those with low mobility and families with young kids. The themed events such as Dinosaur Safari and Glow Light Festival are what make it a distinctive venue, adding an interactive touch to the traditional zoo visit.
At Sydney Zoo, you'll encounter a variety of species from not only Australia but also Africa and Asia, with orangutans, Sumatran tigers and African lions among the highlights. It's also home to Australia's largest reptile and nocturnal house where you can observe the after-dark antics of native species.
It is one of only two Australian Zoos that it combines both a zoo and an aquarium.
The aquarium is a different experience from SEALife in Darling Harbour, it features big drawcard species such as bull sharks, little penguins and saltwater crocodiles, as well as a variety of freshwater fish like Murray cod and barramundi.
It is worth planning your visit around one of their many events, from their interactive dinosaur exhibition to the creatures made from Lego Bricks, it's a really great way to keep the kids entertained.
Special Experiences
Animal Encounters
Special animal encounters are available daily, with prices starting around $59.99 for a session small group session (4-6 guests).
The encounters, lasting between 30 to 45 minutes, provide an opportunity to delve deeper into understanding the animals, hand-feed them, and snag a close-up photo. The animals available are:
Red Panda
Squirrel Monkey
Elephant
Tiger
Giraffe
Lion
Meerkat
Hyena Encounter
Capybara
Crocodile Encounter
Reptile
Camel
Zookeeper Experiences
Sydney Zoo offers engaging zookeeper programs tailored for young enthusiasts, with the Mini Zookeeper for ages 8-12 and Cadet Zookeeper for ages 13-17. There's also an accessible option, ensuring an inclusive, hands-on experience in the zookeeping world for all.
Ferris Wheel
For an additional fee, you can see the Zoo from a whole new angle on the 7NEWS Ferris Wheel!
Tickets
Tickets to Sydney Zoo cost $19.99 for kids aged 3 to 15 years and $44.99 for adults. Children under 2 go free.
❗️ Always book online, the gate prices are $10 more expensive!
Accessibility
Every public area and exhibit is wheelchair or mobility scooter-friendly.
The zoo boasts a flat terrain with broad pathways stretching across, ensuring a smooth visit.
Remarkably, you won't encounter a single stair throughout the entire zoo!
Stroller and wheelchair hire are available.
How to Get There
Final Thoughts on Sydney Zoo
Key Information
When: Open every day from 9am – 5pm.
Where: 700 Great Western Highway, Bungarribee NSW 2767.
Parking: FREE parking at the on-site car park (it's a good size car park)
🦁 WILDLife Sydney Zoo is a small but impressive zoo that is ideal for small children in prams or those with limited mobility due to its compact size and design. It is also a great option on wet days (as most of the exhibits are undercover) and perfect for exploring with international visitors thanks to its focus on native fauna.
WILD LIFE Sydney Zoo is located on the. waterfront at Darling Harbour and is designed with a one-way trail that leads past exhibits where kangaroos, koalas, wombats and saltwater crocodiles are on display.
It's also home to Tasmanian devils, numbats and goannas, plus birdlife that includes emerald doves, princess parrots and Wonga pigeons.
Special Experiences
You can coincide your visit with one of the keeper talks to dive a little deeper into some of the resident species or relax with a coffee on the Koala Rooftop, surrounded by adorable Koalas.
Breakfast with Koalas
Embark on a guided highlights tour led by an expert keeper, unveiling the wonders of WILD LIFE Sydney Zoo.
Follow it up with a hearty buffet-style breakfast amidst the charming company of koalas. As you nibble on your breakfast, enjoy an informative talk by a koala keeper and seize the chance to snap a memorable photo with these adorable marsupials.
Once the breakfast concludes, you are free to explore the rest of the zoo, which is included in the ticket price.
Wine Tasting with Koalas
Not a fan of early meals? Worry not! You can opt for a wine-tasting experience with the koalas instead!
Koala Photo Op
Or if you prefer, simply dive straight into a photo session to capture a memorable moment with the cuddly creatures – one of the highlights of my Working Holiday Visa!
Tickets for WILD LIFE Sydney cost $28.20 (weekdays) / $36 (weekends and public holidays) for kids aged 3 to 15 years and $38.40. (weekdays) / $48 (weekends and public holidays) for adults. Book here.
❗️ For the BEST value for money opt for a three-attraction pass if you also plan on visiting SEA LIFE Sydney Aquarium which will save you so much money, and essentially get you into the third attraction (Madame Tussauds) for free. The ticket is valid for 60 days!!
Accessibility
Fully wheelchair and pram accessible and has extensive wheelchair facilities throughout the attraction, including lifts and shallow ramp walkways.
How to Get There
Final Thoughts on WILDLife Sydney Zoo
🎈 Get the best prices by booking online! Click here to book now!
Key Information
When: 10 am-5 pm daily, hours vary during the Christmas period.
Where: 1-5 Wheat Rd, Sydney NSW 2000
Parking: Discount through the Wilson Parking App – pre-book online (use code MERLIN). $21 all-day weekdays/ $12 all-day weekends. Car parks are located at 100 MURRAY STREET (HARBOURSIDE) CAR PARK, CITIPARK CAR PARK 431 Kent Street and Darling Car Park, 201 Sussex Street.
🐠 If an aquatic adventure beckons you more than a zoo, or you're eyeing the three-attraction combo pass, then SEALIFE Sydney is your go-to destination for marine exploration
It's located in Darling Harbour, next door to WILD LIFE Sydney Zoo and combined entrance tickets offer a significant discount.
SEA LIFE Sydney Aquarium exhibits more than 700 species representing all of Australia's water habitats, such as tropical reef fish, little penguins and dugongs.
For fans of Finding Nemo, Whilst it might be difficult to locate 42 Wallaby Way, Sydney, SEALIFE Sydney is an excellent way to see beautiful Clownfish and other marine wonders.
Special Experiences
Shark Dive
Shark Dive Xtreme offers a chance to dive up close with an array of marine creatures including Grey Nurse Sharks, Port Jackson Sharks, Wobbegong Sharks, giant Stingrays, and more, all without the confinement of a cage.
Spanning 2.5-3 hours, this adventure welcomes first-time divers, requiring no prior diving experience, and is open to individuals aged 14 and above with a decent swimming ability.
Glass Bottom Boat Tours
Take a serene boat ride above the Day and Night on the Reef exhibit, gliding over the water while marine creatures dart below, all as you soak up tales of the Great Barrier Reef. Plus, don't miss the new Glass Bottom Boat + Turtle Encounter, where a 60-minute adventure introduces you to our rescued turtles Dave, Chandler, and Plugga, each with their own unique story.
Private Dining
Dinner at SEA LIFE Sydney Aquarium encompasses a self-guided tour, a three-course dinner, and drinks, set in the mesmerizing Day and Night on the Reef zone. To keep the date-night ambience exclusive, this experience is reserved for those 18 and over, with no entry permitted for children.
Tickets
Adults tickets cost $40.80 (weekdays) / $51(weekends) and child tickets cost $30.40 (weekdays) / $38 (weekends).
❗️To be totally honest here, it is really not worth buying just the single ticket to SEALIFE Sydney; you get way better value for your money by buying the three-attraction combo pass. (the other two attractions are WILDLIFE Sydney and Madame Tussauds – they are all next door to each other!)
Accessibility
Ramps leading to deeper oceanariums are steep; wheelchair users may need extra assistance.
Due to narrow turning spaces, electronic scooters are not permitted in the Shark Valley and Dugong Island sections.
The aquarium is wheelchair accessible, with ramps connecting each level; caution is advised due to uneven ground, especially during varying tide times.
Complimentary 'Escape the Noise' kits are available for individuals with sensory issues.
How To Get There
Final Thought on SEALIFE Sydney
Key Information
When: 10am-5pm daily, hours vary during the Christmas period.
Where: 1-5 Wheat Rd, Sydney NSW 2000
Parking: Discount through the Wilson Parking App – pre-book online (use code MERLIN). $21 all-day weekdays/ $12 all-day weekends. Car parks are located at 100 MURRAY STREET (HARBOURSIDE) CAR PARK, CITIPARK CAR PARK 431 Kent Street and Darling Car Park, 201 Sussex Street.
🐦 Located in Sydney's southwest, Featherdale Wildlife Park hosts one of the largest collections of Australian birds and animals. The charm here lies in the hands-on experience—getting up close with adorable mammals, making it a go-to spot for a family outing.
Set across more than three hectares, it features spacious enclosures where you can hand-feed kangaroos, observe adorable quokkas and see waddling wombats.
Featherdale also cares for around 1,700 native birds and their sulphur-crested cockatoo flight demonstrations are not to be missed. Other highlights include the opportunity to feed their 2.6-metre saltwater crocodile "Max" and assist with keeper maintenance in the little penguin enclosure.
If you've always wanted to get on board with the quokka selfie craze (but can't make it to Rottnest Island), you can do exactly that at Featherdale!
Tickets
Tickets are priced at $39 for adults and $26 for children, while kids under 3 enter for free. For an additional $20 each, you can enhance your visit with the Personal Koala Encounter, which includes a cherished photo opportunity with a koala
How To Get There
Featherdale Wildlife Park is around 45 45-minute' drive from Sydney or can be reached along the North Shore and Western Line to Blacktown Station. From here, take the number 729 bus for the 10-minute ride to the park gates.
Final Thoughts on Featherdale Wildlife Park
Key Information
When: 8 AM – 5 PM Daily (not open on Christmas Day)
Where: 17-229 Kildare Road, Doonside, Sydney NSW 2767 (near Blacktown)
Parking: Free parking at the on-site car park (they also have an overflow car park across the street)
🦘 Helensburgh's Symbio Wildlife Park sets itself apart thanks to a huge new splash park and an adventure playground, which make it incredibly popular with families based in Sydney's south.
It's also home to an impressive collection of Australian native wildlife species that include koalas and eastern grey kangaroos, plus exotic animals such as cheetahs, red pandas and ring-tailed monkeys.
Whether you want to learn all there is to know about dingoes, have your photo taken with a meerkat or be a keeper for the day, you can do it all at Symbio Wildlife Park. If that wasn't enough, you can also feed and interact with adorable goats, lambs and guinea pigs in the farmyard area and attend engaging keeper talks.
On hot, summer days, the kids can cool off beneath the massive dump bucket in the splash park before settling in for a picnic on the large grassy lawns. There are also two undercover shelters if the weather has other plans, plus an onsite kiosk where you can grab drinks and snacks.
Tickets
Adult tickets are $42 and child tickets are $27. Under 3 go free. There are various family tickets that will get you a cheaper entry, so its worth checking out the prices online.
How to Get There
Symbio Wildlife Park can be accessed by train on the South Coast/Illawarra Line to Helensburgh Station, followed by a short ride on bus route number 15 to the park entrance.
Final Thoughts on Symbio Wildlife Park
Key Information
When: Open Daily 9:30am – 5:00pm
Where: 7-11 Lawrence Hargrave Dr, Helensburgh NSW 2508
Parking: Free Parking at the large on-site car park
🐨 The Koala Park Sanctuary is designed as a walk-through wildlife park and allows you to get up close to not only koalas but also kangaroos, emus, dingoes and wombats.
It also provides refuge for a large collection of native birds, plus little penguins and peacocks displaying their brilliant colours. 
This privately run wildlife park in West Pennant Hills was originally opened in the 1930s by Noel Burnet, who was concerned about the large number of koalas being hunted for the fur trade.
He spent much of his life dedicated to preserving these iconic creatures, which face new threats to their survival in the form of land clearance for human settlements, agriculture and mining. 
The Koala Park Sanctuary holds keeper-led talks throughout the day and there's a farmyard area where kids can interact with friendly goats. The Sanctuary also runs a koala hospital where injured wildlife are nursed back to health and visitors are invited to get a sneak peek behind the doors. 
The wide paths at the Koala Park Sanctuary are accommodating of prams and strollers and if you don't want to bring lunch, you can dine at the Wattleseed Cafe – which was delicious!
Tickets
Adult tickets are $32 and child tickets are $18. Under 4 go free.
How to Get There
The Koala Park Sanctuary is 20 minutes drive from Sydney and free parking is available on site. Alternatively, you can take the T1 North Shore & Northern Line train to Pennant Hills Station, then catch the number 632 bus for the final stretch to the park entrance.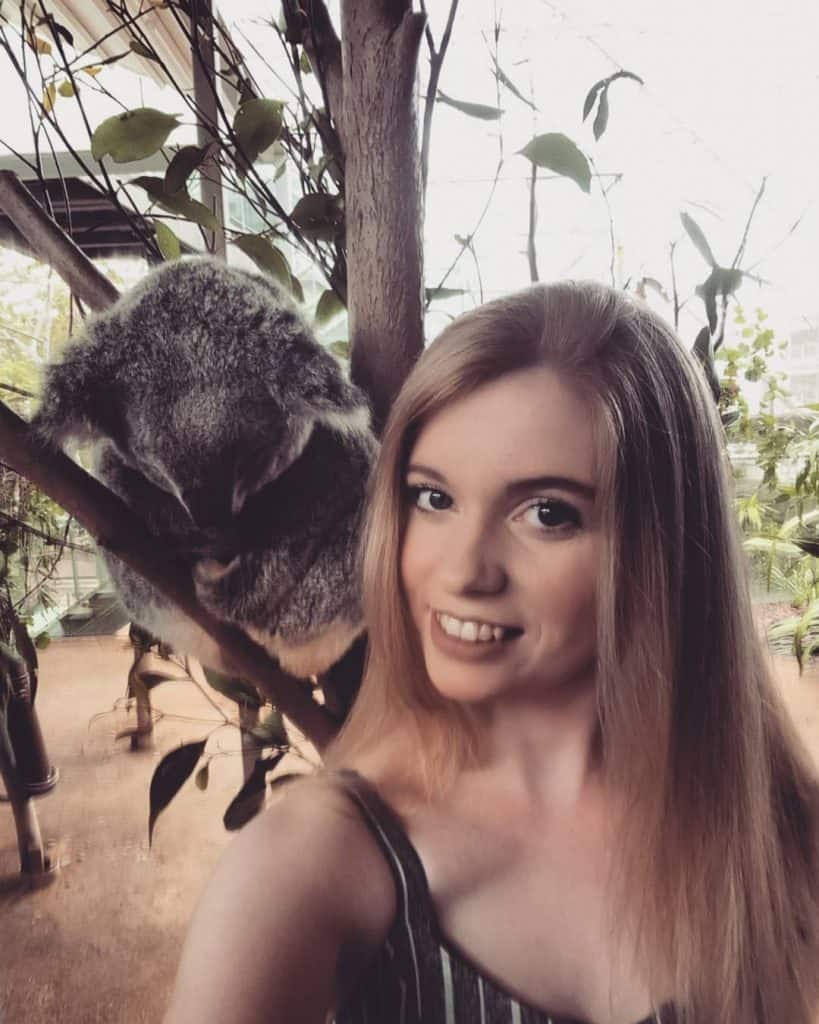 Final Thoughts on Koala Park Sanctuary
Key Information
When: 9am- 5pm, closed Christmas day.
Where: 84 Castle Hill Rd, West Pennant Hills NSW 2125
Parking: Free onsite-parking
🦎 As its name suggests, this wildlife park in Somersby on the Central Coast is focused on reptiles. In fact, it boasts the largest collection in Australia, in addition to native mammals such as echidnas, wombats and Tasmanian devils.
It bills itself as "Australia's original hands-on zoo", with up-close encounters on offer with its resident koalas, tree kangaroos and Komodo dragons.
In addition to freshwater crocodiles native to Australia, you can also come face-to-face with American alligators. 
If you want a more exclusive experience at the Australian Reptile Park, you can book in for a fully escorted tour with one of the keepers. Meet a giant python and hand-feed some of the reptiles while learning about the collection of snake and spider venom for the production of anti-venom.
Another claim to fame of the Australian Reptile Park is "Ploddy", a 26-metre concrete Diplodocus. It was built by the park's founder, Eric Worrell, in 1963 as the country's first roadside "big thing" and is one to tick off the list!
Tickets
Tickets for an adult cost $47.99 and $30.99 for children. Under 3 go free. Book online as the gate prices are $2-3 more expensive.
How to Get There
The Australian Reptile Park is around one hour's drive north of Sydney or can be accessed by train to Gosford Train Station. From here, you'll need to grab an Uber or taxi to the park (be sure to keep your receipt for 25% off the entrance price).
Final Thoughts on Australian Reptile Park
Key Information
When: 9am – 5pm, daily. Not open on Christmas day.
Where: Pacific Hwy, Somersby NSW 2250
Parking: Free on-site parking
Best Zoos + Wildlife Parks in Sydney: Further Afield
🦁 The largest zoo outside of Sydney is the award-winning Taronga Western Plains Zoo in Dubbo, which is renowned for its open-range exhibits. Unlike most of Sydney's zoos that are best explored on foot, this safari-style zoo is ideally experienced on wheels. 
You can jump aboard one of their safari trucks to see giraffes, zebras and rhinos or rent a bicycle to explore the five-kilometre-long circuit under your own steam.
Keeper talks are also held throughout the day, focusing on particular species and their characteristics. In addition to learning about the lifestyle of cheetahs and spider monkeys, you can discover how Galapagos tortoises can live up to 150 years. 
Other standout experiences at Taronga Western Plains Zoo include the Early Morning Walk, which allows you to meet some of the park's endangered and exotic species before the park opens for the day.
Kids will also love the Elephant Barn Tour for observing these gentle giants enjoying a playful bath time. 
Because there is so much to see and do at the Taronga Western Plains Zoo, many visitors opt to stay overnight for a mini safari experience. You can bunk down under the stars at the Billabong Camp (which is within earshot of the Lion Pride Lands), enjoy luxury glamping at the Zoofari Lodge or settle into one of the self-contained Savannah Cabins. 
Tickets
Adult tickets are $45.90 and child tickets are $27. Under 4 go free.
How to Get There
Dubbo is a one-hour flight from Sydney with Qantas or REX and can also be reached by regional trains from Central Station. If you're driving, it will take five to six hours from Sydney and there is plenty of parking on site. 
Key Information
When: 9 am – 4 pm 365 days a year
Where: Obley Rd, Dubbo NSW 2830
Parking: On-site Parking
Zoos in Sydney: FAQs
How many zoos are in Sydney?
There are three zoos in Sydney – Taronga Zoo, Sydney Zoo and WILD LIFE Sydney Zoo – plus several wildlife parks and aquariums.
Is Sydney Zoo better than Taronga Zoo?
While Taronga Zoo has the biggest range of land-based animals in Sydney, Sydney Zoo also features a large collection of marine species in its aquarium exhibits. So the best zoo in Sydney for you will depend on where your interests lie and what you want to see. I personally found Sydney Zoo better in term of being more relaxed and less crowded.
Can you hold a Koala in Sydney?
No, you can no longer hold koalas in any zoos or wildlife parks in New South Wales. Regulations were enforced a few years ago against the practice to prevent the koalas from becoming stressed. It is possible, however, to stand alongside koalas at several zoos and have a photo op and a pat. 
Which is the best zoo for toddlers and younger kids?
All of Sydney's zoos are well designed for prams and strollers, allowing you to access all of the exhibits and enclosures. But with small kids in tow, the compact size of WILD LIFE Sydney Zoo makes it ideal, as you can see almost everything in a couple of hours. Taronga Zoo and Sydney Zoo are both quite large and warrant a full-day adventure. I personally recommend wildlife parks such as Symbio as they offer a hands-on experience for kids.
Which is the cheapest zoo in Sydney to visit?
Sydney Zoo at Bungarribee is currently the cheapest zoo to visit in Sydney, although a family pass to Taronga Zoo is only a few dollars more. If you're deciding which zoos in Sydney to visit based on price, remember to factor in public transport costs.
Is Sydney Zoo different to Taronga Zoo?
Both Sydney Zoo and Taronga Zoo offer completely different experiences. Taronga is a large, traditional outdoors zoo. The Animal collection is very good and the zoo itself is quite scenic with great views across the harbour to the Opera House and Sydney CBD.
Spill the Tea with me!
Did you enjoy the Koala Sanctuary more than I did? In the battle of Taronga Zoo vs Sydney Zoo who is your winner? I want to hear which you enjoyed – and which you didn't!
Did anything in this guide surprise you? Let me know in the comments. I'll reply within 24 hours!